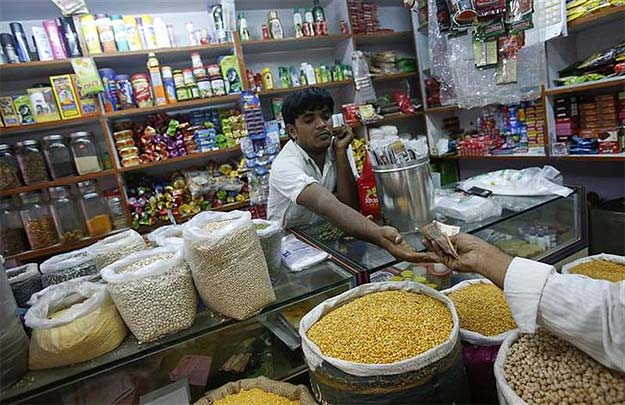 New Delhi :
wholesale in the country inflation rate There has been some decrease in September compared to August but it has increased significantly compared to September last year. The effect is clearly visible – all the things of domestic necessity have become expensive, including vegetables. According to the data of the Government of India, the inflation rate has come down but at the ground level, from vegetables to common household items, things have become expensive. Inflation is decreasing in the government figures, but common goods are getting expensive in the shop. According to Vinay, who has been running a grocery shop in Ghaziabad for nearly 20 years, the prices of cosmetic items have become expensive by 20 percent in the last one month, while the prices of surf, soap, oil have also increased. Sugar has increased from Rs 38 a kg to Rs 42. The packet of 5 kg flour has gone from Rs 300 to Rs 330.
Vinay says, there has been a 20 percent increase in all surf soaps and shampoos. Mustard oil was earlier 150 rupees, now it has become 180 rupees, the prices of cosmetics increase daily. On the other hand, on Thursday, the commerce ministry released wholesale data, according to which inflation rate has increased in September this year compared to last year. In September last year, the whole sale inflation rate was 1.32 percent, which has increased to 10.66 percent this year. However, in August this year, it was 11.39 percent, which has come down to 10.66 percent.
Although import duty on palm, soybean and sunflower has been abolished to give some relief to consumers on edible oil, but experts say that inflation is not going to decrease in the recent past. Share India Vice President Ravi Singh says, 'Look At present, due to the festive season, inflation on edible oil is not going to come down. At present 7.5 million tonnes of mustard production is sown. The import duty has come down but it will take one to three months to get its impact.
The price of petrol, diesel to cooking gas is increasing continuously. Which is also affecting the price of vegetables. Where tomatoes are available in the market for 80 to 100 rupees. At the same time, the prices of potatoes, onions and other vegetables have also increased continuously. Experts are linking this to the increase in freight charges due to increase in diesel prices. Because of this, whatever the government claims on inflation, for the time being it seems more likely to remain.
– – read this also – –
* NCB will challenge the bail granted to Nawab Malik's son-in-law Sameer Khan and others in the High Court
* Policemen were 'drunk' at CM's son's wedding: letter from senior Punjab police officer
* Delhi CM's letter to LG – Allow Chhath Puja to be celebrated in public